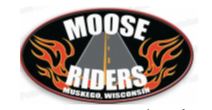 Meetings: 1st Wednesday of the Month
6:30 pm Board of Officers
7:00 pm Rider Meeting
---
2019 Board of Officers
---
President George "Riley" Brooks
Vice President Greg "Sparky" Subel
Secretary Christine "Shorty" Brooks
Treasurer Mike "Big Dog" Theys
Srgt at Arms Dave "Stumpy" Tomka
Event Coordinator Kim "Kimmy" Weigold
Event Coordinator Gina "GiGi" Subel
Road Captain Keith "Ignitor" Wamser
Road Captain Tony "BT" Riva
---
---
Current Fundraisers – Shake of the Day
Activities
Soup-er Tuesdays 3rd Tuesday of the Month – runs from October through March at 5:00 pm – While supplies last Donations of soup always accepted and appreciated. Containers of soup will be available for purchase after 6:30 pm.
Highway Clean-Up 3rd Sunday of the Month – runs from April through October at 9:00 am
---
THE GNOME WAS FOUND AT THE WEST BEND LODGE in October 2018 by Mike & Cheryl Klabunde. They received a $50 Gas Card. They have hidden the Gnome in a new location.
The Gnome was hidden within 150-mile radius of the Muskego Lodge. You must be an active Moose Member/Rider and show both cards. Bring back the Gnome and receive $50 gas gift card.
---
Bon-Fires last Saturday of the Month