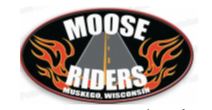 Meetings:  1st Wednesday of the Month
6:30 pm Board of Officers
7:00 pm Rider Meeting
---
2018 Board of Officers
---
President                            Mike "Big Dog" Theys
Vice President                 Dennis Theys
Secretary                           Jill Theys
Treasurer                          Camille Theys
Srgt at Arms                    George Brooks
Event Coordinator     Kim Weigold
Road Captain                Keith Wamser
---
---
Current Fundraisers – Shake of the Day
Activities
Soup-er Tuesdays 3rd Tuesday of the Month – runs from October through March at 5:00 pm  – While supplies last  Donations of soup always accepted and appreciated.
Highway Clean-Up 3rd Sunday of the Month – runs from April through October at 9:00 am
---
THE GNOME WAS FOUND AT THE WEST BEND LODGE in October by Mike & Cheryl Klabunde.  They received a $50 Gas Card.    They are now tasked with hiding the Gnome in a new location.  They'll let you know when it is hidden again.
The Gnome will be hidden within 150-mile radius.  You must be an active Moose Member/Rider and show both cards.  Bring back the Gnome and receive $50 gas gift card.
---
Bon-Fires last Saturday of the Month